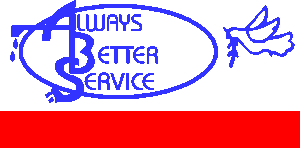 Plumbing/Electrical/Heating & Air Conditioning
Serving Polk County And Surrounding Areas Since 1977
Licensed, Bonded and Insured for your Protection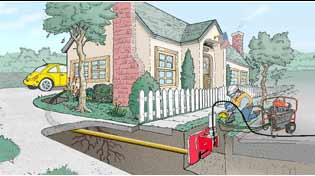 Always Better Service has done numerous trenchless pipe burst with a 100% success rate.
Have you been told by your plumbing professional, in order to replace your sewer line:
The tree will have to be taken out We will have to cut across your driveway You will have to replace your driveway You will have to cut across the street We will have to get onto your neighbors' property also We will have to trench around ???? .
What about that beautiful lawn you enjoy so much?
Contact us before letting someone destroy your property.
Most sewer line replacement jobs only requires two small pits on your property. One pit for entry and one for exit. If you have a basement or crawl space, only one pit in needed in most cases.
Q. What is the life expectancy of HDPE pipe?

A. THE US EPA expects 100-year service life from HDPE landfill liners. Buried solid wall or profile wall HDPE pipe should last at least as long. HDPE pressure pipe was first used in water service over 50 years ago. Current accelerated testing methods predict that today's HDPE pressure pipes will last much longer than 50 years. Everything points to a service life of at least 100 years in a properly designed and installed HDPE pipe system.
©2006 alwaysbetterservice.com